How Much Does It Cost?
The current pricing for SMS Messaging is $15.00 per billing cycle (per month) for up to 200 outgoing messages. There is no limit or cost on incoming messages.
Outgoing messages above the monthly allocation of 200 will be charged at the rate of 3¢ ($0.03) per message. Fees will be assessed at the end of each billing cycle and charged to the credit card we have on file.
Note that the pricing may change at any time, based on the rates we are charged by our telecoms partner.
How Do I Turn It On?
Go to Settings > Messaging > SMS Numbers. Choose the "Create Phone" button. You will NOT be messaging from your personal phone number. You will be creating a new number from our database of available numbers. Enter the area code you'd like your messages to come from and "Search". If we do not have any numbers assigned to that area code, please choose another area code. (Our telephony operator has millions of available numbers, but not all area codes are covered.)
Choose a phone number you like and select the "Claim" button beside that number. (When you click "Claim" the messaging service will be enabled and that number will be added to your account. You will be charged as shown above.) Please Note: numbers displayed are those available at that moment. There is a possibility someone else may select that same number and complete their set-up before you, which will result in an error message at the end of the Create Phone page. You'll need to go back to the page where you input the area code and select a different number.
On the "Create Phone" page enter a name for the number – a business name or a personal one.
On that same page, select how you'd like to handle incoming voicemail messages: You may use a pre-recorded message (one that you've provided) or you may select "text-to-speech". If "text-to-speech" is chosen, you will type the message you want a caller to hear, and an electronically generated voice will "read" the message.
If you want voicemail messages to always be forwarded to another number, enter that number in "Forwarding Phone Number." The message will still be available within your OR account, also. If you decide to forward to another phone, be sure to select what incoming number would you like to see displayed on that phone:
the actual number that sent the original message (e.g. your guest's number)
your own OwnerRez SMS Message number, so you know it's an OwnerRez message
Can I Have More Than 1 Number?
The system was built to make it possible to have multiple numbers. However, only a few users have had that functionality turned on. At the moment, we're limiting that until we get more feedback about general usage. If you are interested in this capability, please contact the Helpdesk.
How Do I Send an SMS Message To My Guest?
There are two ways to send SMS messages to a guest.
From within their individual booking. Once in the booking, look at the top right under the Booking # and click on the "Conversation" menu item. This will take you to a page where you can type the message. If this is an Airbnb guest, you will have the choice of sending the message via the Airbnb messenger or through the OR SMS messaging feature. If you choose the SMS, you will notice the guest's phone number is automatically selected. (If this is not an Airbnb guest, that option will be grayed out and is not available.) Just type your message and hit send. You can also attach a photo or other file (only 1 per message).
Through the CRM tab. If this is the FIRST time you've sent an SMS message to this specific guest, go to CRM and select "Contacts." From the list displayed, find the guest you wish to message and click on the "Pencil" icon to the left of the guest's name. On the next screen, from the left hand menu, choose "Conversation." If there is a phone number associated with that guest record, you will be taken to the screen where you can type your message.
What Menu Is It In?
You can find all your SMS Messages, Incoming and Outgoing, under CRM > Inbox in the Main OwnerRez menu. This is in addition to seeing messages within a booking under the "Conversation" menu item.
Can I Send Messages from My Phone?
Yes and no.
You cannot send or receive from your phone through your phone's main dialer/SMS app.
You can use the OR website on your smartphone to see and respond to SMS messages. Just like on a computer, send and receive messages within a booking by using the "Conversation" item, or go to CRM > Inbox to see existing conversations.
How Do I Know If Someone Sent Me a Message?
1. You can watch the CRM > Inbox counters on the menu which will light up when new messages have arrived. This is the case for both Airbnb and SMS messages. We know that we need more alerts for seeing new messages, and it's at the top of our list. It's the first thing every user has pointed out.
2. There is a system alert for SMS Messages that will fire off an email anytime one comes in. This email will be sent to the main email address on your account. It will include the message itself and where it came from.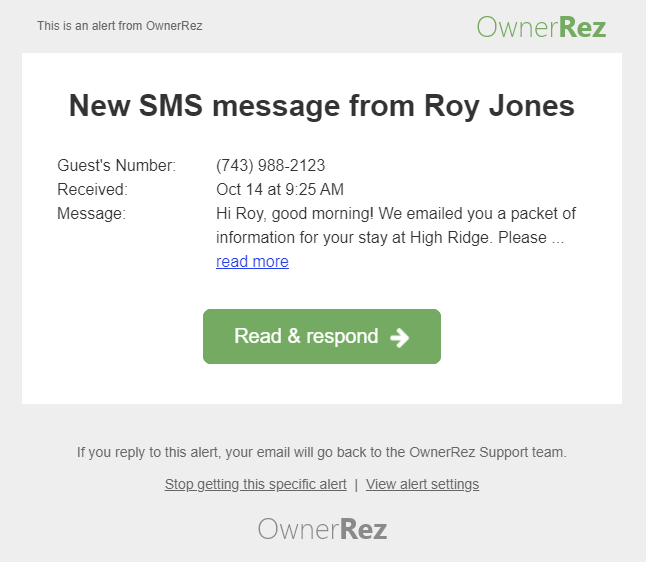 Note that you cannot reply to the SMS message by replying to the email - instead, you'll need to click on the included link to go to the OwnerRez inbox, and you can reply from there.
Where Can I See Messages Exchanged With Someone?
Within a specific Booking, go to the "Conversation" menu item in the upper, right, under the Booking #. In addition, you can use the CRM tab from the main OwnerRez menu (CRM > Inbox) to see folks you've messaged with – both SMS Messages and ones sent through Airbnb.
Can I use SMS anywhere?
At present, OwnerRez SMS capabilities are only available from numbers based out of North America. This is not a technical limitation - it's an economic one, as we have not yet worked out a suitable way to charge for telecom service in Europe and Asia, whose systems are generally billed very differently. We intend to add worldwide capability in the near future.
We offer both United States and Canadian telephone numbers for the SMS service.
Note that you can send and receive messages to phones from everywhere, though messages sent to international numbers may have a higher charge. If you or your properties are outside of North America, you are welcome to use our SMS system, but any messages you send will a) be coming from a North American number and b) may run up larger charges than you're used to since they'll all count as international texts, assuming that your guests are mostly local. (Although, if most of your guests are North Americans themselves, this might actually save you money!)
How do you know which phone numbers are mobile and can receive text messages, and which are landlines that can't?
You don't. We can't either. There's simply no reliable, automatic way to detect this.
If you send a text to a non-mobile number, in most cases the phone company will telephone that number and, if someone answers the phone, read them text-to-speech of your text message.
What if I get an error message when attempting to send?
If there's a failure when sending an SMS, you'll get an error message letting you know what happened. Sometimes this can be because the guest entered a wrong number or the phone isn't accessible and that will be stated in the error message.
Very occasionally you'll get a 30008 Unknown error. Here's the description from our carrier:
"Message Delivery - Unknown error

If a message you sent is not delivered to the end device and returns a 30008 error code, this means that delivery of your message failed for unknown reasons.

When we receive a very generic error from our carrier partner that we have no further details about, we associate the message with the error code 30008, letting you know that we truly don't know what caused this error from the provider."
You can try again and see if it works -- it's possible the phone is off or roaming or isn't reachable for some reason.
Another thing to try is sending a shorter message to the phone, with simple content that does not include any special characters. This would give our support team an idea as to whether the failure is related to concatenation or character encoding.
If you know it should work, such as if you can successfully text the number directly via other devices, send a few tests from OwnerRez and send in a support ticket and we'll escalate it up to the carrier.