OwnerRez has partnered with HomeToGo to provide an integrated API connection between the two systems. This allows OwnerRez users to easily handle their listings and bookings from HomeToGo. Our Channel Management feature is extremely powerful and can greatly simplify your channel advertising. Learn how it works by reading our Channel Management Overview article.
Rates

Availability

All static content such as amenities, description, photos, etc.
Before you enable your properties for HomeToGo, make sure the price per night you have in OwnerRez is correct. HomeToGo will pull your nightly rate from your HomeToGo Reservation type in OwnerRez. If you also have an option for extra guest fees, that will also be pulled from OwnerRez. The final price indicated in OwnerRez is the final price the guest pays so it is important your rates are set up properly.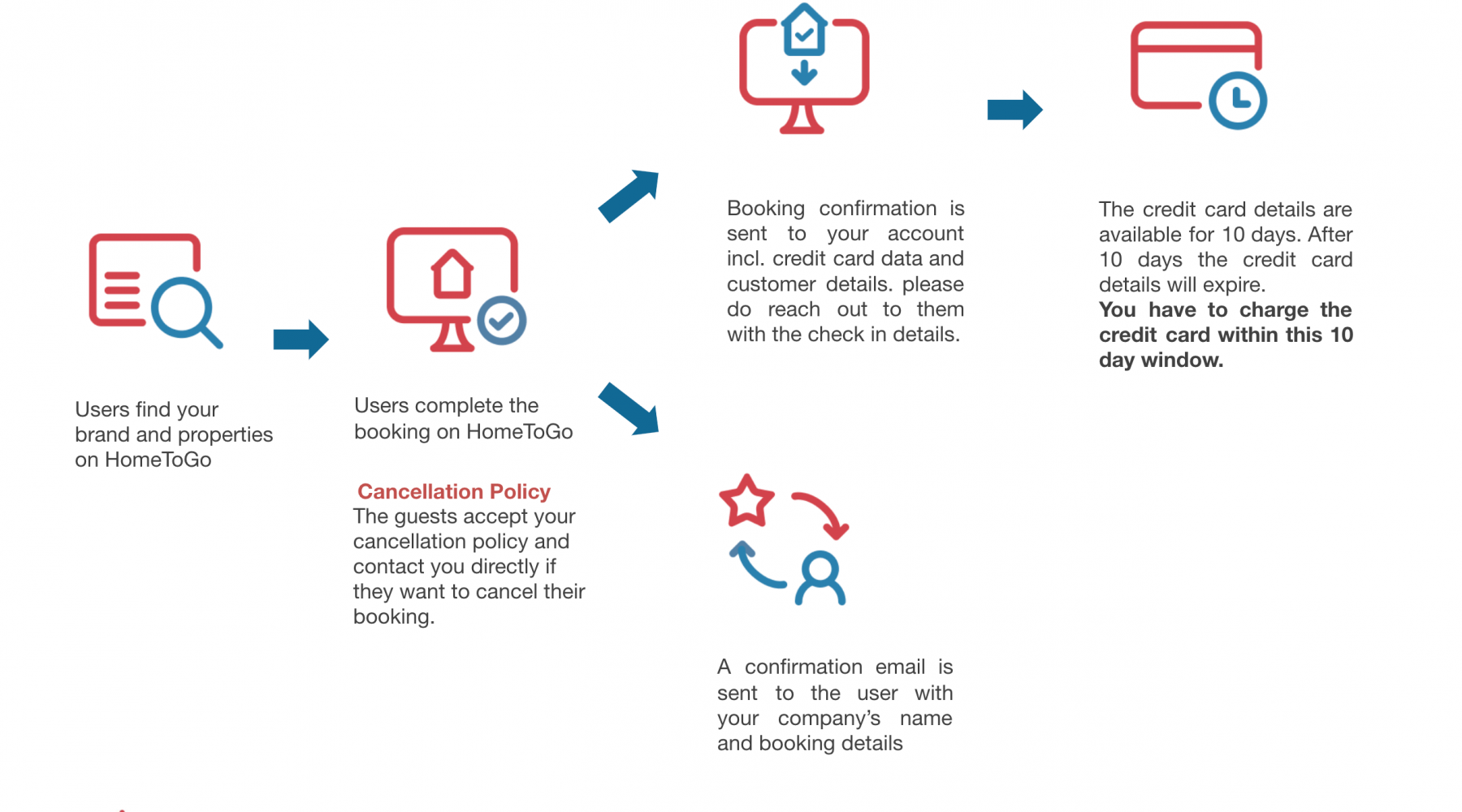 To go live on HomeToGo, get a good ranking and receive more bookings you should fulfill the following requirements:
Company profile in OwnerRez needs to be filled in, phone number, email, etc.
Property title without numbers and non-Latin characters
Complete address and location
Photos: a minimum of 10 photos in size 1024x768 (max 50)
Amenities: a minimum of 10
Description with a minimum of 700 characters
Guests, bedrooms and bathrooms need to be specified (at least one bathroom and at least one room)
Property size (ft² or m²) needs to be specified
Bedding info in each room e.g.; single bed, double bed, etc.
Arrival instructions for the guest; check-in hours, phone number and email address.
Prices and availability for the next 18 months
Properties in instant booking only
Capacity of at least one adult
Complete Fees and Taxes mapped in OwnerRez for HomeToGo
Can I activate a few listings first and then the rest of my inventory?
HomeToGo suggests enabling your whole inventory on HomeToGo for maximum exposure and a higher ranking.
How do I know if my properties are live?
Once you have connected to HomeToGo via OwnerRez, you are placed in the HomeToGo Integration pipeline. You will receive further details from the HomeToGo Integration Team as soon as your properties are live. For a speedy connection, it is important you stay in contact with HomeToGo until your integration is complete. If you haven't received any communication from HomeToGo, be sure to check your spam and junk folders just in case. Please be sure to add the correct email and phone number in the connection form so HomeToGo can reach you to provide updates about your integration.
Do I have access to a HomeToGo dashboard to manage my listings?
With HomeToGo, no need for you to connect to an extra dashboard! You can manage your properties directly in your OwnerRez dashboard.
How will I be invoiced?
At the beginning of each month, you will receive the invoice for the generated bookings with check-in date of the previous month from HomeToGo. The payment period is 30 days.
How do I markup my listings to cover the HomeToGo commission?
Open your HomeToGo API Integration channel within OwnerRez, and click the "Change" button. Scroll down to the "Rate Adjustment" section and select "Adjust Rent Only" and enter the amount you would like to markup all HomeToGo listing rates (you can also adjust surcharges if desired, but this is less common).

How can I contact HomeToGo?
You can find more information about the setup process on HomeToGo's Connection Guide.