Our Channel Management feature is extremely powerful and can greatly simplify your channel advertising. Learn how it works by reading our Channel Management Overview article. The most powerful part of our Channel Management is the API Integrations we have with certain channel partners.
However, each API Integrated channel has different sets of fields they support with lots of overlap between them. Even if they support the same field, there are differences in what the field means or how you are limited in using it.
To make matters worse, some of the fields have hidden interactions with various channels. For instance, if you select both option A and a different option B, you may get some third option C appearing in the channel that doesn't appear in OwnerRez at all.
This document is an attempt to record and explain these complexities. As the channels are constantly adding new amenities and features, it will likely not be fully up-to-date - if you find a new such interaction, please let us know!
Health & Safety and Vrbo
The health and safety amenities are populated automatically based on your property rules.
1) The "Is Your property implementing" section expands to show the safety procedures you've selected, and will automatically load those from OwnerRez: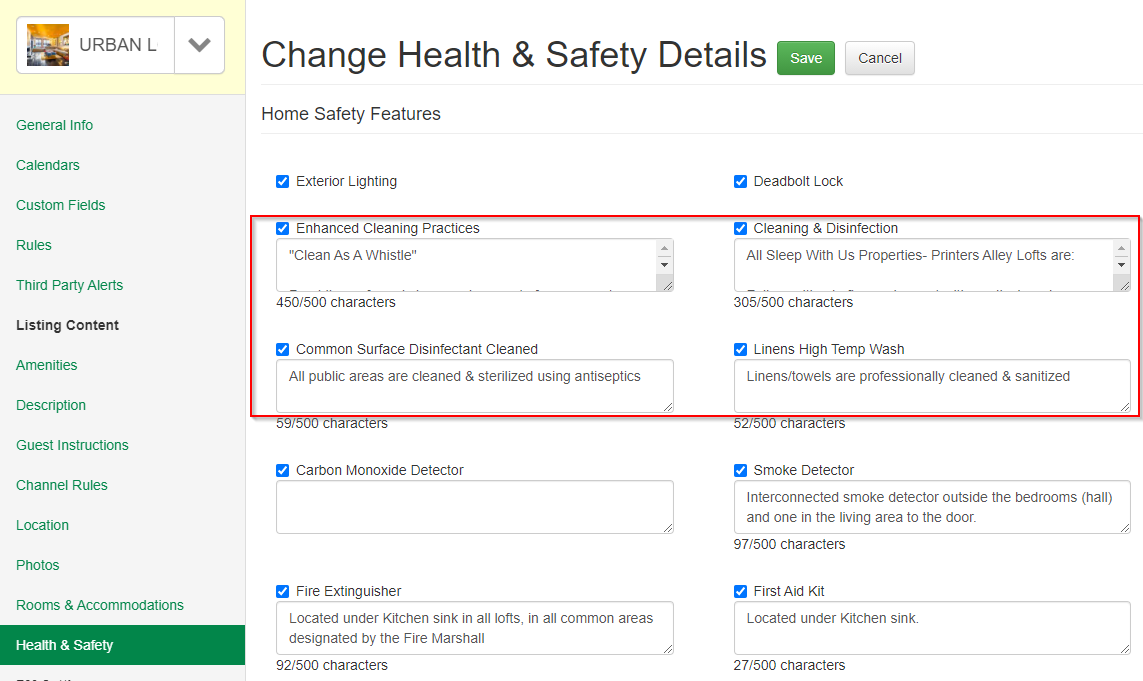 2) The "self checkin" option populates based on whether you've selected that sort of checkin (screenshot 2)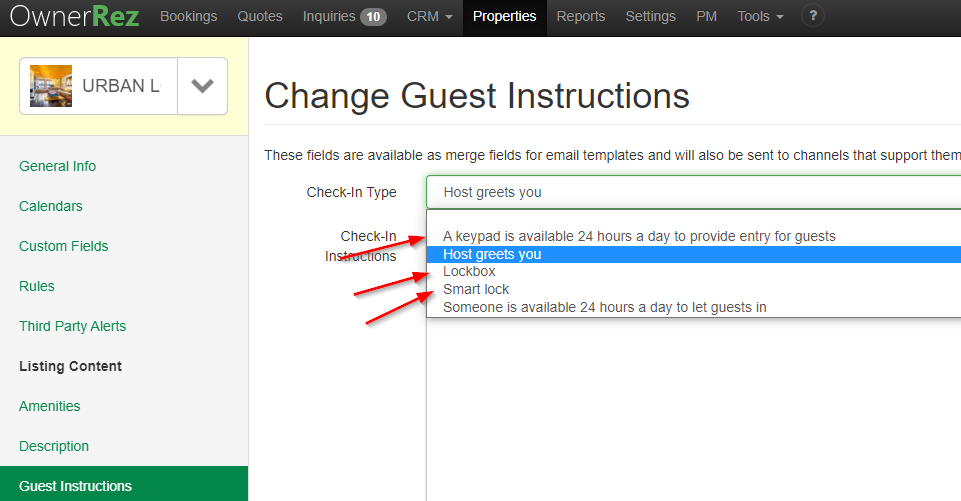 3) The time between bookings populates based on your required gaps rule (screenshot 3)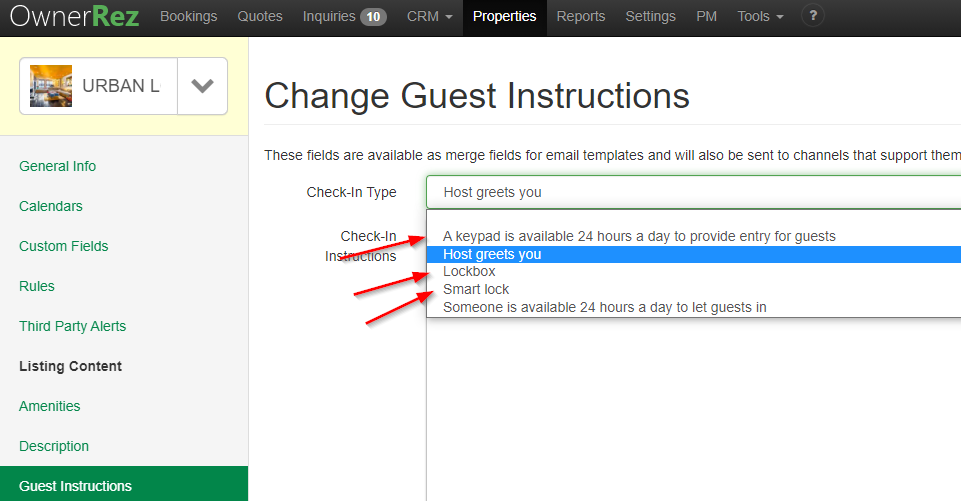 Airbnb "Cooking Basics"
Airbnb has a special "Cooking Basics" amenity. In OwnerRez, this is represented by selecting both Spices/Pantry Items and Pots & Pans: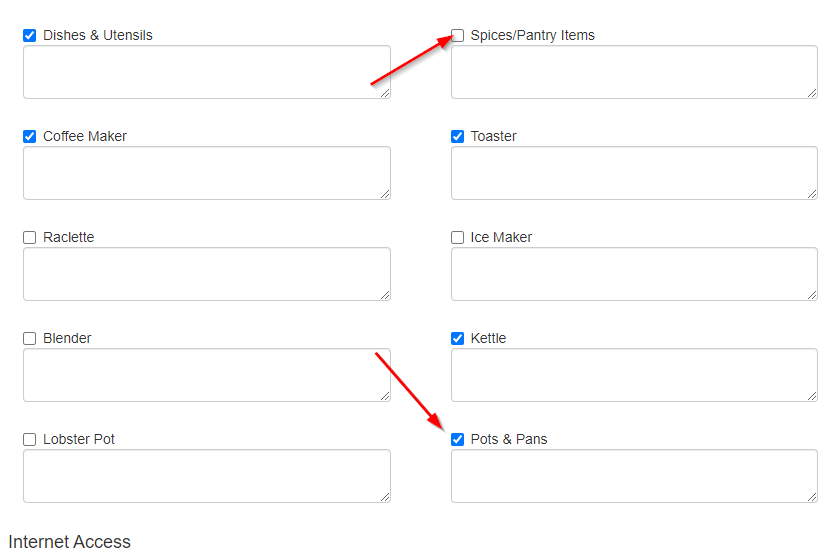 Spices/Pantry Items and Pots & Pans won't appear in Airbnb - but, if you select both of them, you'll get the "Cooking Basics" amenity.
Airbnb Professional Properties
Most listing channels allow you to categorize your property listing to better describe what it is - a House, a Room, perhaps an Estate, maybe even a Lighthouse. Generally this is pretty straightforward - there's a list, and you pick what's most appropriate. Each channel has its own list, of course, so OwnerRez offers a list for each major channel in the Amenities area to choose from.
With Airbnb, though, it's not that simple - some of the entries on their list are considered "professional hospitality businesses". If you choose one of those types, your account will be converted to use the Simplified Pricing mode (sometimes called host-only fee) -- so we don't show them in the property type list by default.
These special property types are considered "professional hospitality businesses":
Bed And Breakfast
Hotel
Boutique Hotel
Farmstay
Lodge
Hostel
Minsu
Ryokan
Pension
Heritage Hotel
Casa Particular
Aparthotel
Resort
Serviced Apartment
In order to be able to choose any of the above property listing types, edit the settings on the Airbnb API connection in OwnerRez and enable the "professional hospitality business" option.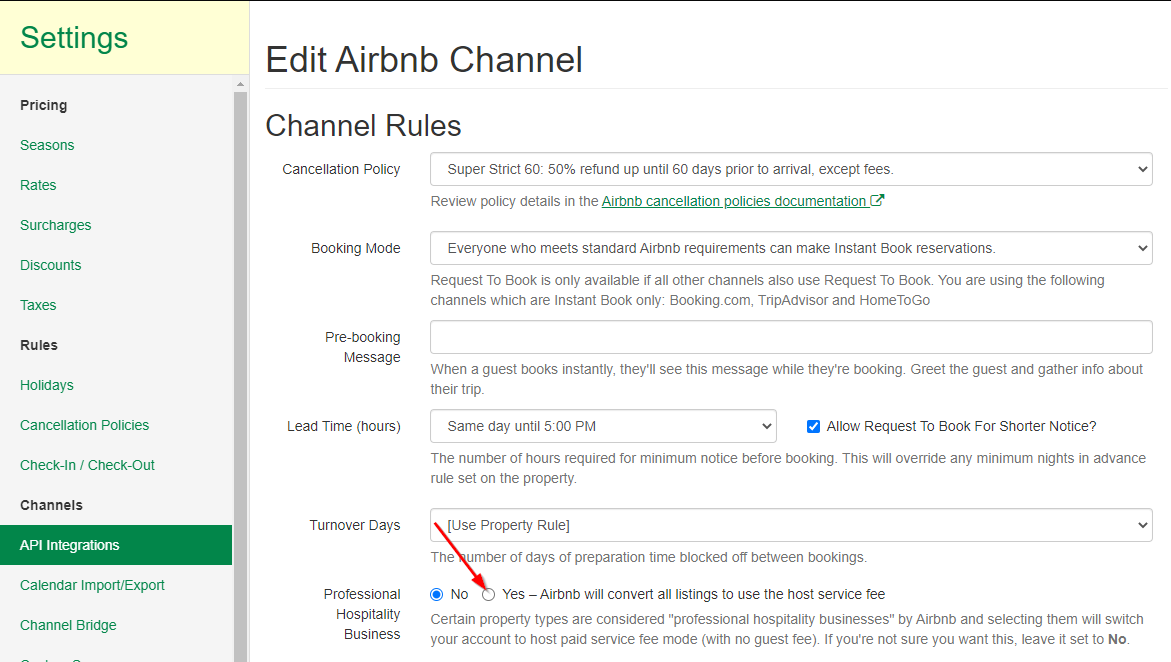 Then go back to the Amenities page for the property and you'll see those items appear in the list.
Airbnb Common Spaces
You can designate a room as a "common space". You can even put a bed (e.g. a sofa-bed) in that room. But it may not appear exactly as you intend.
Airbnb has some magic where, if you have a common-space type room, and also have a living-room type room, they only show the living room - the common space vanishes entirely. This happens because they used to combine all non-bedroom beds into one common-space room, then later on they added the concept of distinct room types.

If your common-space-type room is not appearing in your Airbnb listing, change its type to living-room or some other type. That should fix it.
Cribs
Is a crib a bed? It sure seems like one, if you're a baby. But, most guests looking for an apartment with "two beds" won't be too pleased if one of them turns out to be a crib.
And, surprise surprise, the channels handle this ambiguity differently:
Airbnb has three relevant options:
crib Amenity
pack-n-play Amenity
crib in a specific Bedroom, selected as you would a bed type
Vrbo supports only two of those options
pack-n-play Amenity
crib in a specific Bedroom, selected as you would a bed type
If you put a crib in a bedroom in OwnerRez, that gets sent to the listing channel as a bed - and, it's treated accordingly, including indicating the number of beds as well as the "sleeps" count in each room and overall.
If you set the "pack n play" or crib Amenity instead in OwnerRez, then that gets sent as an Amenity, which is not a bed. In most cases, that may be a more appropriate way of actually indicating to your guests the useful capacity of your property, than by the apparently more accurate description of a "crib" as a bed.


A Bed in the Bathroom?!?!
Would you believe Airbnb allows you to list a bathroom with a bed in it?
You can actually configure this in OwnerRez, too - but, OwnerRez considers this to be an error, and does not push the bed via any API connections.