OwnerRez can automatically generate codes for your RemoteLock and ZWave door locks. Each time a booking is created, OwnerRez will automatically set the door lock code without you lifting a finger! If the booking moves properties or changes dates, a new code is generated so that the guest always has the correct code.
If you want to use RemoteLock door locks, all the details are below.
Setting Up the Integration
To get started, go to Settings > Door Locks then click on the RemoteLock option. That will take you to the RemoteLock site to authorize the connection with OwnerRez. If you're not logged in yet, log in to RemoteLock -- that will be the same username and password you use to access the RemoteLock control panel, not your OwnerRez credentials.
Then authorize the connection with OwnerRez: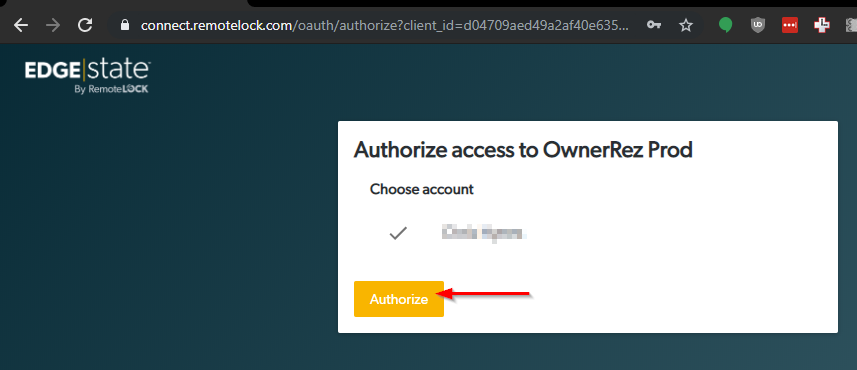 Once the record is created, you will see a page showing the integration and a Property Mapping section. This is where you'll match your RemoteLock locks to each of your properties.
To complete setup, follow the configuration and property mapping directions outlined in the Door Lock Overview.
Code Generation and Capabilities
Now that you have lock integration configured, let's look at your bookings and the code generation side.
Format: 4-10 digit codes are generated automatically by the lock based on stay dates. The length is based on the code setting you configure in your RemoteLock account
Setting Codes: You can set any code you want (as long as it's not used by another guest, see quirk below). You can choose to let RemoteLock generate the code, use the guest's phone number, or generate a manual code.
Updating Dates: When you update dates, the applicable dates will be automatically updated in RemoteLock and the code will remain the same
Canceling Codes: RemoteLock does support canceling codes and they will be automatically canceled when a booking is canceled
Multiple Locks on one Booking: All RemoteLocks associated with the booking property will be programmed with the same code
Quirks:
Any given code can only be used by a single guest at a time across your entire RemoteLock account. So you can't have two guests with the code 1234 even if they are different dates or properties.

If you're using RemoteLock to generate the code, they will generate unique codes, but be aware that you could have overlaps if you're setting codes yourself using a different sequence such as last four digits of the guest's phone number.
ResortLocks (the algorithmic offering vs the Wifi locks) are still configured using the RemoteLock account but have a different set of capabilities
Igloo locks can be integrated to your RemoteLock account but have a different set of capabilities
Codes will be automatically generated for new bookings, or you can manually generate codes for existing bookings for a single booking or update many bookings at once by using our batch update tool.
Other Compatibilities
RemoteLocks is a lock dashboard for many lock types. Here are other lock brands which are understood to work with RemoteLocks, and should be able to be used following the instructions above:
Yale Locks
August
Schlage, but, not the Schlage Sense / VLE locks.
Kwikset
Vera Controllers
Z-Wave
Common Questions
I'm getting an Internal Server Error.
This is a message that RemoteLock can return to OwnerRez when we attempt to set a door code. Unfortunately, it doesn't provide much information, and we aren't able to fix it - you'll need to reach out to RemoteLock support for assistance. If necessary, you can CC our Helpdesk so we can assist RemoteLock in determining the solution.