Damage Protection is a feature that covers your property against the accidental damage a guest might do while at your property. It's an insurance policy that covers accidental damage for a particular guest and set of dates and paid for on a booking by booking basis. It's directly integrated into OwnerRez and provided by RentalGuardian.
Overview
We spent several years researching the various Damage Protection products out there before developing ours. We wanted an insurance partner that was low cost but had a good track record of paying claims. Some of the listing sites and channels claim to include damage protection, but they are known to be quite bad. Not only are they wildly overpriced but they are known to reject many claims or require an admission of guilt by the guest. We developed something that spreads risk well for the insurance carrier but is also low cost for you - the property owner/PM.
If you go to Settings > Damage Protection, you'll see a page explaining in simple terms how it works and the costs. Our $1500 coverage, which is the level of coverage we recommend for most properties, is only $27 per booking. When a booking occurs, the Damage Protection is automatically applied. This is between you (the owner/PM) and RentalGuardian (the insurer). The guest doesn't know about it. You can optionally choose to add a surcharge back to the guest to cover the cost, but the booking is covered regardless.
Once turned on, Damage Protection is not optional in the sense that it can be applied to a booking by booking basis. All bookings must be covered - this is to satisfy the model of spreading the risk across bookings and properties of different types while also offering it at a low cost.
Damage Protection can be used for any property worldwide, and the owner or manager (i.e. you) can be a citizen of any country.
Costs and Coverages
Here's the price/coverage table. Again, this is applied automatically to every booking (*) you create in the system:
| Coverage per Booking (*) | Fee |
| --- | --- |
| $500 of covered damage | $13 |
| $1,500 of covered damage | $27 |
| $3,000 of covered damage | $45 |
| $5,000 of covered damage | $69 |
*Long-term booking exception: each 30 day period requires a separate policy. So a 31-60 day booking would require 2 policies, a 61-90 day booking would require 3 policies and so on. There is no limit to the number of months that can be purchased but the fee will multiple for every 30 days.
Each property can have a different level of coverage selected, but all properties must be covered under the terms of the insurance contract.
Does this replace the security deposit?
We recommend having both Damage Protection in place and also using our security deposit feature to have a $300 or $500 hold on the guest's credit card. Why? Because it makes the guest behave. When the guest knows that a security deposit is held on their card, they tend to take care of things better. Damage Protection is a great feature, but you don't want the guest to think they can do what they want because, after all, "damage is covered".
Here are other reasons you should still have a security deposit in place:
Damage Protection only covers accidental damage. If the guest commits intentional damage, such as vandalism, it won't be covered and you'd have to go after the guest for that money a different way.
The guest may break house rules in which case you need a security deposit to bill them for fines, fees or overages. For instance, they might bring a pet but not tell you about it. If found, you may have a fine or fee for the pet. Damage Protection would not cover something like that.
The accidental damage might cost more than the coverage includes. For instance, a lot of users opt for the $500 coverage because it's cheap (only $13 per booking) and covers a lot of common things - broken glasses, windows, even doors. But what if the guest breaks an expensive item like a TV or fridge? The $500 coverage wouldn't fully cover that expense, and you'd have to go after the guest for more money. A security deposit can help with that. Incidentally, this is why we recommend the $1500 coverage tier. It tends to be the best coverage value for the cost.
What about canceled bookings?
If a booking is canceled, the damage protection coverage is refunded. Damage protection is paid on your monthly invoice. If you cancel a booking before the damage protection has been charged on the next monthly invoice, then it won't show up on the invoice at all. If the damage protection fee has already been invoiced, you'll see a credit for the canceled booking on the next monthly invoice.
Imported Bookings from VRBO or Airbnb?
There is a caveat to "every booking in the system" rule which is for imported bookings from listing sites. Airbnb, for instance, advertises a "host guarantee" which offers a certain level of protection. To help with that, we have a "Apply Damage Protection" setting on calendar imports so that you can skip the damage protection for imported bookings. To be clear, this only applies to bookings imported from a channel.
However, we do recommend keeping the Damage Protection turned on for all channel bookings. For VRBO, you can tell VRBO to turn it off on their side (which they have an option for). If the channel has the option to opt-out of damage protection, we recommend doing that and going with the product we have set up instead. Airbnb's "Host Guarantee" can't be turned off, but it's a very weak coverage that only works in certain circumstances. If an Airbnb guest contradicts your story, for example, Airbnb will not cover you.
The Claims Process
The claim process is online, linked from the Damage Protection tab of each covered booking.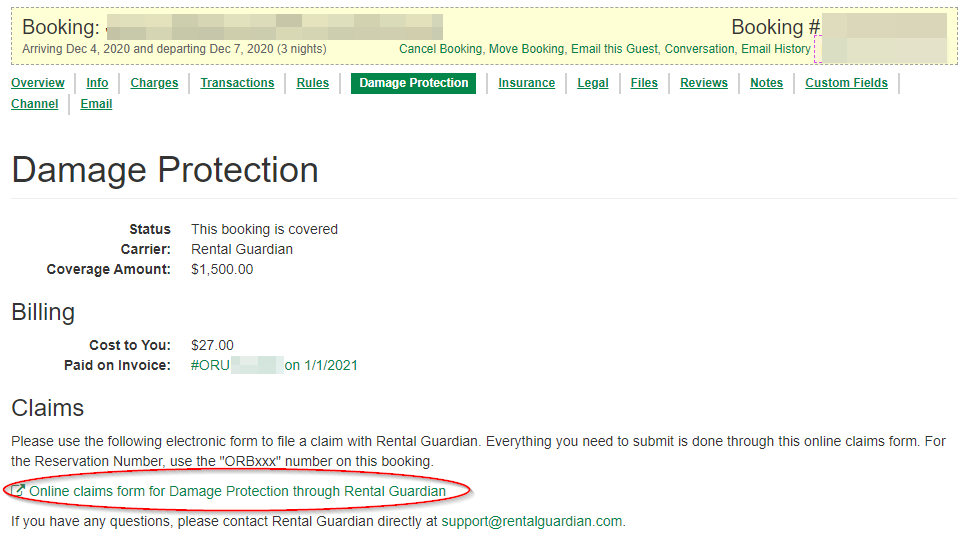 The damage coverage insurance requires that the damage be found within 14 days of the guest departing. You don't have to have fixed or replaced the item within 14 days, that's just when the claim has to be made by. They then give you 45 days to send in pictures of what happened (the evidence) and the invoice/receipt of what you paid to have it fixed or replaced.
IMPORTANT: As mentioned above, the damage must be accidental. The insurance will not cover damage that was intentional. The coverage also does not cover non-damage items like (a) your time in assessing the damage or (b) the guest not following house rules (eg. bringing a pet when you don't allow pets).
To get started, go to the Damage Protection page in the settings area and flip it on!
Insurance Policy Details
OWNERREZ OWNER DOC - GENERAL 2020 Final 2.3.2021.docx
You can find answers to many common issues and questions here.