Connecting your account
Make sure all of your properties are configured in OwnerRez under Properties > Rules > Booking Window > Max Days in Future. You need each property set to either "No Limit" or, if you choose "Require arrival of at most", it must be at least 365 days. Since Beyond Pricing sets rates for a year in advance, if you don't allow at least a full year, you'll get errors from the Beyond Pricing integration.

Make sure you have created your account at Beyond Pricing, and configured your properties following their instructions.
Make sure you are logged in to your OwnerRez account.
In another browser tab, log into Beyond Pricing and click on the "Link Another Account" button.

In the Beyond Pricing browser tab, click on OwnerRez option, then click "Link Account".
This will take you to your OwnerRez account. Now click on the button to "Authorize Beyond Pricing". At that point Beyond Pricing will start importing your listings.
That's it!
Here's a gif of what the process looks like: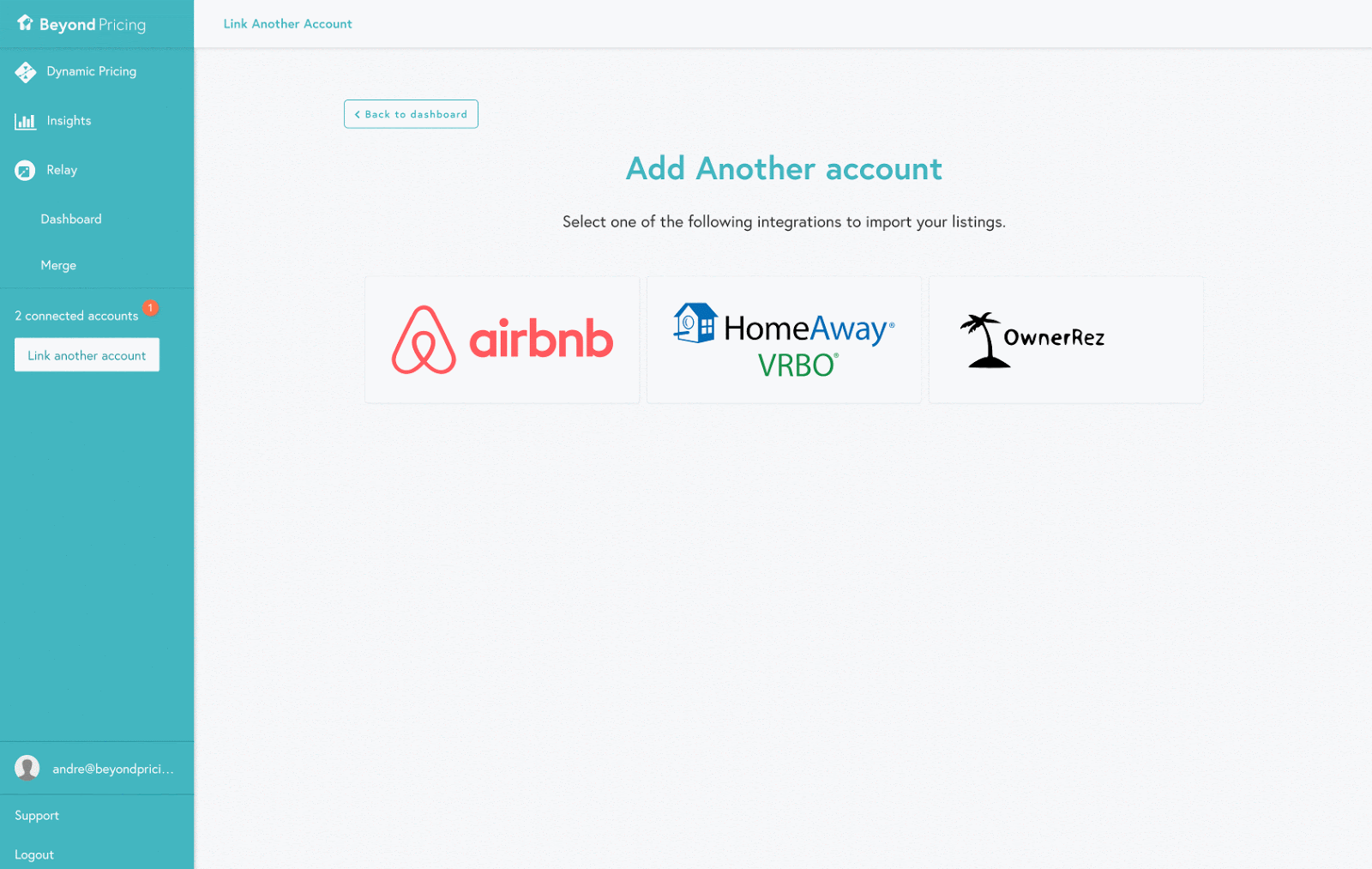 Customizations in Beyond Pricing
With OwnerRez, you will have access to adjust Minimum and Maximum Prices, Minimum Stays and Gap Fillers and Last Minute Discounts directly in Beyond Pricing.
See Beyond Pricing's help page and video What can I do in the Customize Tab? for a broad overview.
By default, Beyond Pricing pushes min-nights as well as rates. These will override any settings that might otherwise be in OwnerRez.
If you want Beyond Pricing to push only rates, and not min-nights, contact Beyond Pricing tech support. They are able to make a backend setting that will prevent your Beyond Pricing account from ever pushing any min-nights settings. In this configuration, only rates will be send to OwnerRez, leaving you to control min-nights using OwnerRez settings such as property rules and seasons.
Adding a new listing
New listings and other changes made in OwnerRez will show up automatically when Beyond Pricing refreshes your account each night at midnight. To have a new listing or any other changes in OwnerRez show up immediately, simply refresh your account in your Connected Accounts tab in the Beyond Pricing control panel, like this: