As with adding properties, adding rates and season to OwnerRez is very simple. The setup wizard provides a question/answer type workflow with easy to understand entry fields.
First, you will be asked to explain your seasons. Do you use seasons at all, or are your rates the same year-round? If you use seasons, are they simple like "On Season" and "Off Season" or do they involve lots of different periods?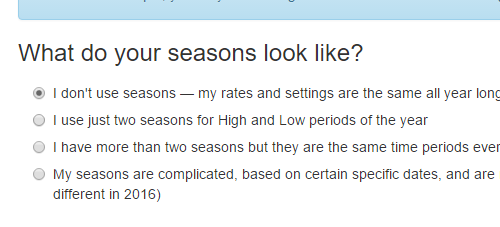 Answering that question and clicking Continue will bring you to a page to enter the names and dates for your seasons.

After entering the seasons and clicking Continue, you will then be asked about rates.
It is important to understand that our rate engine is extremely powerful and has many options far beyond what you see during the setup wizard. The point of the setup wizard is to narrow down the questions that are asked upfront, so that you can get into the system and start using it, but also make sure that enough information is collected so that we know what kind of quotes and bookings you have.
To that end, the setup wizard only asks basic questions about rates so that you don't have a lot of options to wade through while joining.

The entry for your rate amounts is also very simple, asking you for the normal night, weekend, week, month types and avoiding the more complicated features for later.

That's all you need to enter to get some basic rates configured while setting up your account!
Again, if you don't see an option or setting when setting up seasons and rates, don't worry. We support many other things (surcharges, discounts, etc) that you can find under the Settings menu.