Blocking off time allows you to set aside stretches of time on the calendar that aren't tracked as bookings. This is useful for maintenance or construction periods, owner stays, etc.
Overview
To block off time, use the "Block Off Time" button in the bookings section:
In the resulting screen, you'll be able to select the property to block, choose dates, and enter notes about the block if needed. You can also send emails notifying interested parties such as housekeeping about the block.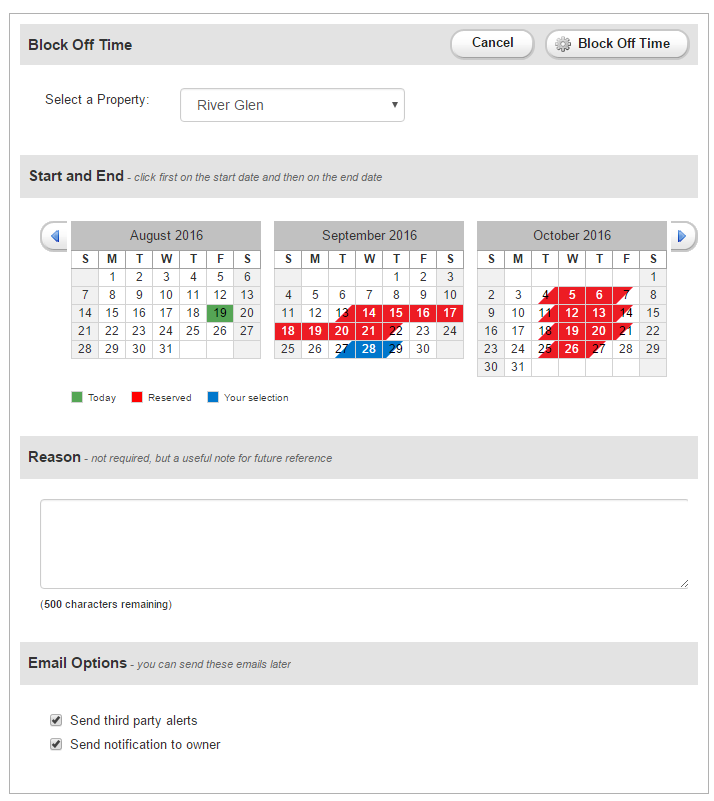 One thing to consider when making a block is that OwnerRez calculates bookings and blocks based on nights, not days, because that's how things tend to work with guests. Even for a single-day block, you still have to pick both arrival and departure to choose which night(s) to block off.
For example, if you wanted to block the day of the 22nd, you've got a couple of options based on which nights you want to still allow guests to arrive.
Block 21st-22nd, which will block the night before but allow people to arrive on the 22nd.
Block 22nd-23rd, which will block the night of, but allow people to depart on the 22nd.
Block 21st-23rd, which will block off the entire day as well as the night before and after.
Blocks and Listing Sites
If you are exporting your calendar to a listing site using iCal, or are connected via API, any blocks you create in OwnerRez will be exported to that site.
For API connections to channels, you can create a blackout specific only to that channel. Go to Settings > API Integrations > Blackouts tab, Create Channel Blackout, and specify which channel you want the blackout to be. This is not a block, will not appear on your main OwnerRez calendar, will not affect any iCal calendar exports, and will not trigger any Mutual Blocking.
If you create a block in the listing site, and are importing that site's calendar to OwnerRez, the block may or may not be imported to OwnerRez depending on your import settings. We recommend not importing blocks via iCal - set your iCal import to "Bookings Only" if possible.
It's usually best to create blocks in OwnerRez and let them be exported to your listing sites, than the other way round.
Blocking Multiple Properties
If you have multiple properties you want to block off at the same time, we have a special tool to help you. It's under Tools > Bulk Block-off. You can select which properties you want to block, and control whether Mutual Blocking rules should apply.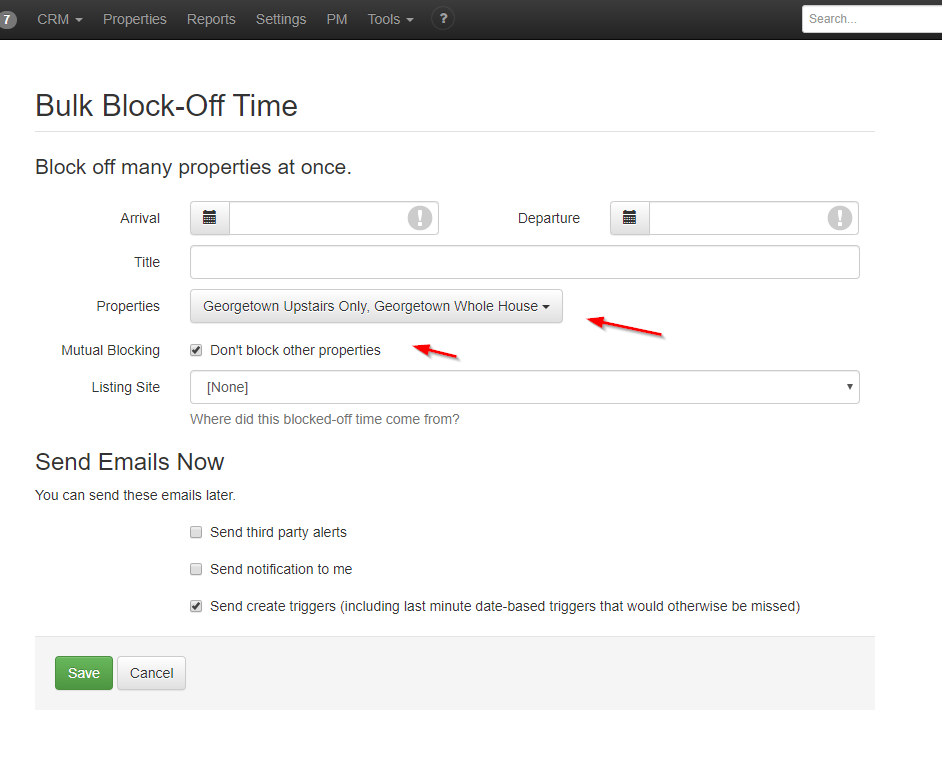 Canceling a Block
A block can be canceled using the "Cancel" button on its main Overview tab.

Lock Codes
What do you use Blocks for? Do you use them for maintenance, like repainting the house? Or, do you use them for when someone actually is staying at the house, but isn't paying for a normal Booking, like an owner stay?
If the latter, and you are using remote locks, you may want to enable lock codes for Blocks as they are for Bookings. You can do this in the settings for your remote door locks: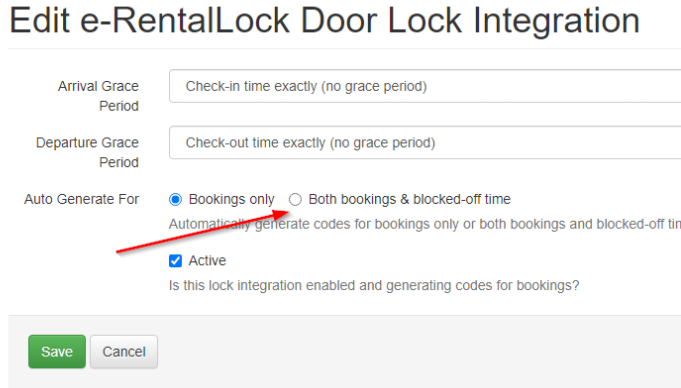 With this setting active, Blocks will have door lock codes assigned, just as Bookings do.