OwnerRez can automatically generate codes for your eRentalLock door locks. Each time a booking is created, OwnerRez will automatically set the door lock code without you lifting a finger! If the booking moves properties or changes dates, a new code is generated so that the guest always has the correct code. If you want to use eRentalLock door locks, all the details are below.
You can also reference the Door Lock Overview article for standard procedures and best practices.
To get started, go to Settings > Door Locks then click on the eRentalLock option. Fill in the username and password for your eRentalLock account. It's the same username and password you use to access the eRentalLock control panel.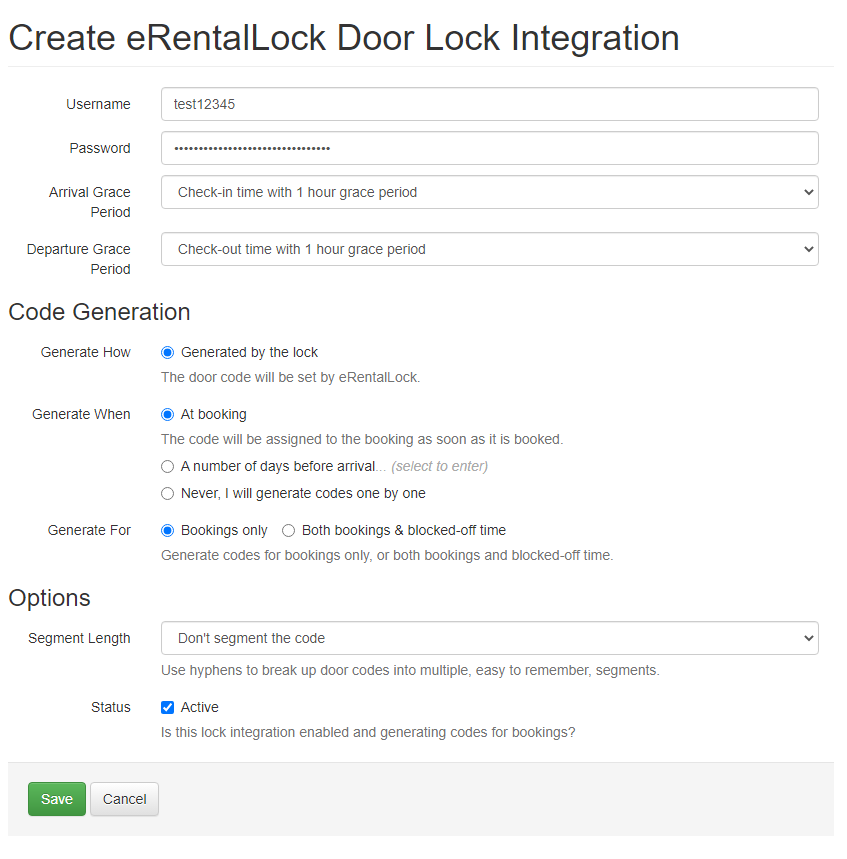 Once the record is created, you will see a page showing the integration and a Property Mapping section. This is where you'll enter the Lock ID provided to you by eRentalLock for each of your properties.
To complete setup, follow the configuration and property mapping directions outlined in the Door Lock Overview.
Code Generation and Capabilities
Now that you have lock integration configured, let's look at your bookings and the code generation side.
Format: 10 digit codes are generated automatically by the lock based on stay dates
Setting Codes: eRentalLock does not support setting codes, only the auto generated code. Generating codes by guest phone number or random numbers are not supported.
Updating Dates: eRentalLock does not support modifying the dates for a given code. If you change the dates for a booking, a new code will be generated -- remember to send the updated code to the guest!
Canceling Codes: eRentalLock does not support canceling codes
Multiple Locks on one Booking: Each eRentalLock lock associated with the booking property will be programmed with its own unique code
Quirks:
The eRentalLock system does not allow codes to be generated more than 365 days in advance! If you are looking at a booking more than 1 year in the future and wondering why it doesn't have a code, and you can't make it generate one - that's why.
Codes will be automatically generated for new bookings, or you can manually generate codes for existing bookings for a single booking or update many bookings at once by using our batch update tool.