OwnerRez can automatically integrate codes for many programmable door locks - but not everything. If you have a programmable door lock that we don't support, that doesn't mean you can't use it with OwnerRez! It's just a little more inconvenient, that's all.
Setting Up the Integration
To get started, go to Settings > Door Locks then click the Manual button to configure your non-integrated programmable door lock.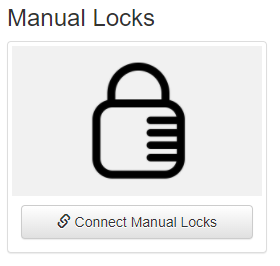 Click "Save" on the next screen to confirm - since OwnerRez cannot directly connect to the lock, there aren't any credentials to configure.
Once the record is created, you will see a page showing the integration and a Property Mapping section.
Click the Change button on the Property Mapping and select which device to use for which property.

It is not necessary to select a lock for every property. You may have properties that do not have a lock installed - leave those blank. If blank, OwnerRez will consider that property to not have a lock. You may also have locks of different types at different properties -- in that case you can set up lock integrations of different types and map them to the correct properties.
Code Generation
Now that you have lock integration configured, let's look at your booking. Because this lock type is not integrated, OwnerRez can't automatically configure the codes or set the times that it is valid - you'll need to do that, using whatever tools are appropriate for the lock you have. But, once you've done that, you can enter the appropriate code into each Booking so that OwnerRez knows what they are, by using the "Set Code" link on each Booking's Overview tab.
Once the codes are programmed into OwnerRez, it can automatically use them in any email templates you have set up to notify your guests of their access code.
Since OwnerRez cannot connect to the lock directly, it also cannot update your door lock with any changes. If the booking is cancelled - the lock code will still be valid until you delete it from your lock. If the booking changes its dates, the code will still only be valid for the dates you originally programmed it for, until you've manually changed that.