It's Wednesday - cheers on getting halfway through the week! Some major updates came out this past week, and we're excited to finally be about to talk about them. In total, there were 17 updates for the past week, so we better get right to it.
New Features
For a long time, one of the biggest complaints about our Hosted Websites has been that they look too plain. While fast and powerful, our Hosted Websites all look the same - meaning your website looks the same as every other OwnerRez client's website. We are on a mission to change that with a lot of upcoming changes and new features for hosted websites.
The first major update was to the header/menu area. We just released a big overhaul that allows you to greatly customize the header & menu area including multiple lines, sections, different kinds of links and buttons and different styles on desktop versus tablet versus mobile. You are now in control of this area and its design.
To demonstrate what can be done, and get you started with different ideas, we also added a predefined template selector that shows three styles and lets you quickly apply one to your header. Here's a quick peek at those predefined templates:
Notice specifically how the headers look - notice where the menus are, other links, logo placement, etc. These templates simply move the header lines and sections around and put your logo and links in different areas so that you get an idea of how headers work. You can add additional styling as well both on the line and section level.
We also put together a 10 minute video walking you though how headers work, so give that a look. Some great material here!
We know many of you will have questions about the new header area, but please watch the video first before sending an email. We're happy to help as always!
If there's a website idea or template you'd like to copy - such as someone else's in the industry - and can't figure out how to do it with our new header area, let us know. Our goal is to support a wide range of header and menu layouts such that most types of designs are possible from a structural standpoint.
To aid with better website design and customization, we also added support for Google Fonts. If you're not familiar with it already, Google Fonts is an online platform that Google created which manages and publishes fonts for designers and website owners to use free of charge. Learn more about it on the Google Fonts website or browse hundreds of fonts directly. There are almost 1,000 fonts available to use completely free of charge.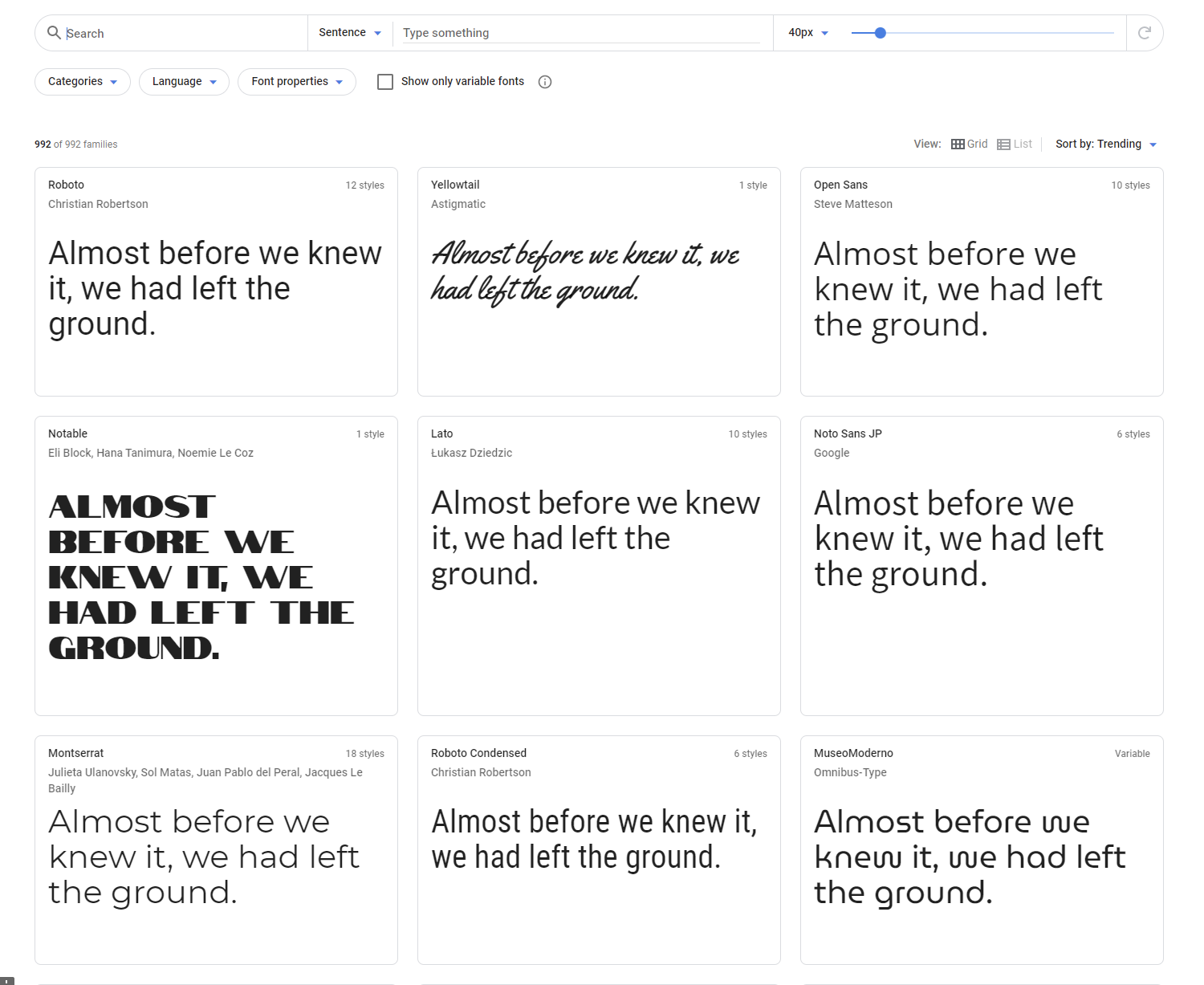 OwnerRez websites now directly support all these fonts.
If you have an OwnerRez hosted website, click the Fonts & Colors tab at the top, find any font field and you'll see a "type in Google font" option. Click that and then type in the name of the Google Font in the box that appears to the right. Save and you're done!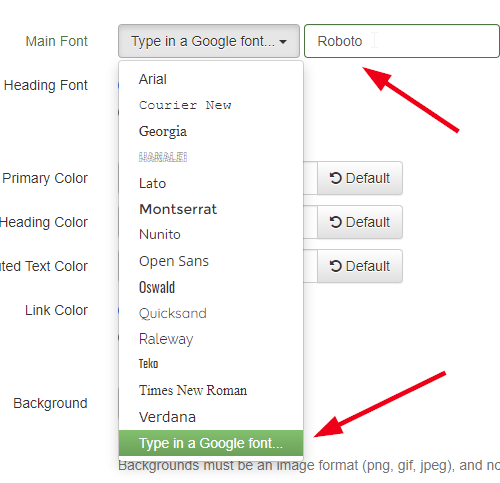 Over on the channel management side, we've been working on adding some new API integrations. As our clients know, we are very selective about integrating with new channel APIs because it takes a lot of work to build and maintain those integrations, and we have to be careful how we allocate resources. Frankly, many OTA's simply aren't worth the investment given how little vacation rentals actually book on those sites.
But some of them are! We're happy to announce that we just released beta support for Houfy as a new API integration. Houfy is near and dear to many of our clients' hearts because Houfy promotes direct bookings without platform fees and they don't restrict communication.
While Houfy may not currently send you the same volume of traffic that other channels do, we're hoping that, over time, our clients can build volume on sites like Houfy and strengthen the #DirectBooking ecosystem. We are strong advocates of the #DirectBooking movement and integration with Houfy is a part of that. By working with the Houfy team to provide direct API integration, you can keep your listings up to date on Houfy without any extra work.
Please note that our Houfy integration is a limited beta. The integration does not yet support everything you may be used to with Vrbo or Airbnb integrations because we are still in the process of fully fleshing out the integration with the Houfy dev team. After connecting, you may need to manually update some pricing or others things on the Houfy side - those things should be supported by the API in the future. Basic listing content and availability is already supported and your availability will update dynamically on the Houfy side. We are still in the process of updating our support docs, so we appreciate your patience!
Last but not least, we now support Schlage door lock when using the RemoteLock door lock integration. If you have Schlage door locks, you can now sign up with RemoteLock and then connect that RemoteLock account to OwnerRez and we'll set your door codes automatically.
Enhancements and Tweaks
When it comes to rates and rules, OwnerRez is a lot more flexible than the channels are. You can customize our surcharges into pretzels, targeting only certain time periods or other custom criteria. The problem is that this creates conflicts between what we support and what gets pushed to the channels. We typically have a "best guess" approach that maps our more-flexible options against their less-flexible ones. To aid with this, we recently changed fee criteria and minimum night checks to go on arrival date only to align with channel criteria. While this means the fee and rules won't "split across" the booking like it does with OwnerRez direct bookings, it will also reduce confusion in what the guest (and you) expect on the channel side.
The new Airbnb Messages inbox has been tweaked to wrap messages, load more quickly and some other minor things. Keep sending your feedback on that. The inbox is a prototype of some great things to come.
When creating or changing website content, you often want to save something and then preview the changes in a different tab or window. It was irritating to save and be redirected away and have to click several times to come back every time. We added a "Save & Close" and "Save" button on website pages so that you can save while staying where you are.
Similarly, we noticed that website pages typically showed a lot of general settings at the top and the body content was pushed way down the page. General page settings aren't changed as often as body content, so we moved those page settings to other tabs and made the body content front and center.
Confused about the fireplace icon that we used when showing the fireplace amenity? We were too. It kind of looked like a smoking sign which gave off a very different impression than desired. We changed the fireplace icon to something that looks a lot more like a campfire.
The rate table widget was also changed quite a bit to promote clarity and information. We are now only calculating contiguous rates when analyzing date ranges. We no longer calculate longer rates for the table if the rates lap over into other seasons. And we are only showing the discount percentage if there is one.
Sorry, Internet Explorer 11, but you are no longer welcome at OwnerRez. We removed access for IE 11 browsers entirely on the client side (guests can still use it). To be clear, this is Internet Explorer and not Edge. Edge is a great browser and very much supported. Let us know if this puts you in a bad way, but it was time to be done with Internet Explorer for good since it is now an obsolete browser. Feels like the end of an era, doesn't it.
Bug Fixes
Duplicate Airbnb new booking emails. We removed the duplicate sending of Airbnb new booking emails if cancelled again.
TripAdvisor API incorrect LOS discounts. If you were API integrated with TripAdvisor, you might have noticed that LOS (weekly, monthly) discounts were calculating incorrect. This has now been fixed.

Line Item Summary report incorrectly grouping other surcharges as not rent. This was fixed.
Airbnb weekly/monthly rates. If there were other LOS rules, we were sometimes skipping the weekly and monthly discounts for Airbnb. This has now been fixed.