Fast, flexible vacation rental software that covers small homeowners and large PMs alike
You need a long-term booking foundation for your vacation rental business. You need vacation rental software that fully manages your channel listings while focusing on your brand, your website and your way of doing things. Welcome to OwnerRez.
Sign Up – It's Free for 14 Days.
This is the OwnerRez dashboard with ribbon, calendar and list. It's clean, simple and sized for many properties. Here's the ribbon.

Get a sense of your bookings across all properties in one quick glance, and hovering over bookings shows a quick popup with details. No chaos, right to the point.
Sometimes you need a simple calendar display. We have that too, and it breaks at mid-days so there's no confusion about arrival and departure days.

Our lists are sexy, fast and filterable. And we believe in data liberation, so you can export anything to Excel or CSV. It's your data, so why wouldn't it be that way?
OwnerRez is simple on the surface, but there are powerful features stuffed underneath the cover. End to end, automation is a big deal to us.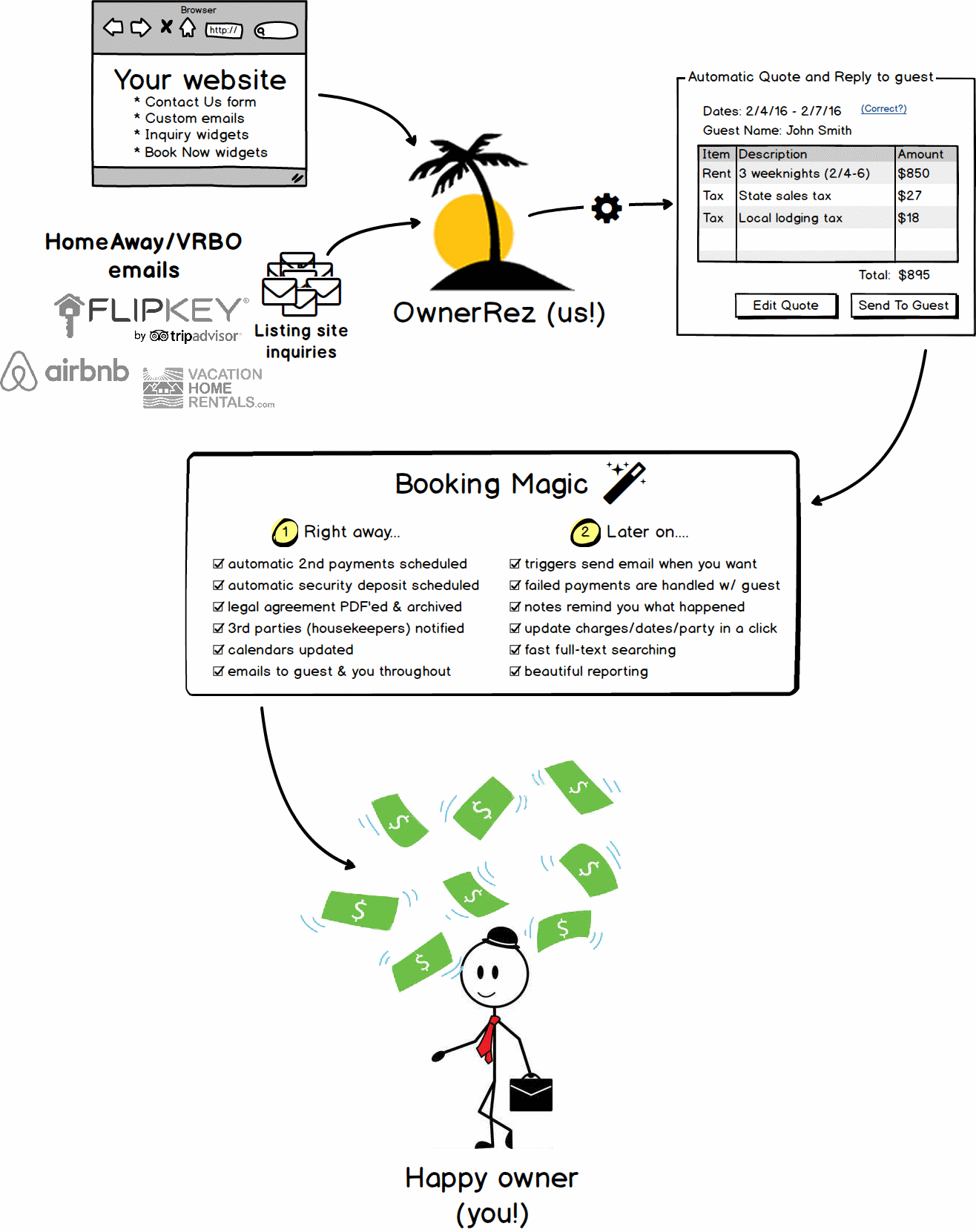 However you get inquiries - emails, website widgets, phone calls - the information is recorded, quotes and responses are prepared, the guest is guided through accepting and you barely lift a finger.
Custom email templates, custom field codes, mail merge? Yes, all of that and more. And unlike the other guys, we don't slather our name and branding all over the emails and quotes that are sent to guests. Guests don't know about us – they only know about you. That's how it should be.
See everything OwnerRez can do
Companies and individuals of all kinds love using OwnerRez because we listen and respond to their needs.
There's no way my team could do what they do - 7 days a week, 52 weeks a year - without the OwnerRez engine. This is the third or fourth app I switched to in the last few years, we stopped with this one and have never felt the need to look any further.
My business has been fortunate enough to add new properties every year for the last several and OwnerRez has grown right along with us. While the major listing sites have awkwardly stumbled from one hand-tying feature to the next, the OwnerRez team has stayed true to being vendor agnostic, fast, lightweight and versatile. There is an honesty about this product and team that is hard to find.(read more)
When I found ownerrez, I thought I'd died and gone to heaven! Everything just runs so smoothly and is automatically handled by the system.
As an owner of multiple vacation properties I have to say OwnerRez is the absolute best owner/guest friendly software on the market today. I have been a customer since 2011 and I have been very pleased. I highly recommend!
OwnerReservations has streamlined my booking process, is more convenient for my guests to book, and helps me present a more professional face to our guests while still allowing me to personalize it to whatever extent I choose. I can whole heartedly recommend OwnerReservations to other vacation rental owners.(read more)
This tool is a must have for vacation property owners. The software interfaces with other advertising companies (VRBO, TripAdvisor, HomeAway) and allows you to capture inquiries and return quotes to potential renters within minutes (fast response equals rental booking). Not to mention it handles calendar entries, rental agreements, payments from customers and auto-deposit to my account. OwnerReservations.com does not handle property advertising, but ALL of the background work. Let the advertising companies (VRBO, HomeAway, etc.) handle the advertising, and have OwnerRez handle everything else (this is where the real work is).(read more)
Our bookkeeper recently indicated that she was spending an hour a month restructuring the financials from our vacation rental. We asked OwnerRez if they could help. A few days later they had a solution that saved our bookkeeper an hour a month which saved us paying her about $75 per month (these savings alone more than pay for the fees to use Owner Reservations). We love the software and could not have built a quarter million dollar a year business without it.(read more)
This reservation software does everything I wanted it to... It's quite configurable, so you can have your automatically sent emails correct for properties which share some characteristics, but not all. And without cutting and pasting, so it's easy to keep everything up to date. Customer support via the forums or email is fantastic. They've always helped me with anything I couldn't sort out very quickly.(read more)
The OwnerRez solution completely changed how I handle my rental business. Before using the application I was strongly considering selling my properties, I grimaced every time the business line rang, and on more than a few occasions I inadvertently double booked. Now I can answer inquiries with a few simple clicks, even from my phone, but that is not all that is great about it! ...I have worked in the Software Industry for 20+ years and have rarely found such a well made and supported application.(read more)
Kick the spreadsheets and clunky software to the curb! Manage your vacation rentals like a pro, and become one of the many people to fall in love with OwnerRez. You can add as many properties and bookings as you want at any time.