We recently discussed the new rate categories that were added to OwnerRez. In the same update, we also added overrides.
The steps for working with rate categories, discussed in the last post, can also be set up for different time periods throughout the year. For example, many owners have different rates between the on and off season. Many OwnerRez users in Florida have higher rates during the last three weeks in December.
On the Rates overview page for your property, you'll notice a lower section called Rate Overrides. Click the Add New Override button and you'll see a rate layout that is similar to the Default Rate page.
At the top, you'll notice an Override Type field that allows you to specify either Seasonal or Specific Dates.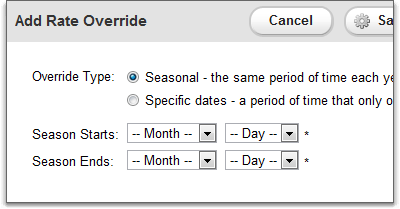 A seasonal override is an override that only has months and days, not years. Seasonal overrides repeat every year. This is the type of override that you would use for off-season/on-season rates.
A specific date override is an override that only occurs once - you specify a hard start and end date. The guest's dates have to fall within those dates. You can manually enter a date or select from the calendar that appears next to the text box.
Overrides should be the exception to the rule. If you have an on-season and off-season, make your Default Rates the on-season and create an override for the off-season.