We have been hard at work for the past several months on some upgrades to the back-end OwnerRez software that will make it possible for us to release updates faster and more often, provide more powerful configuration tools for users and open up the API. It took us far longer to complete than we originally thought it would, but we've finally released the update!
What does this mean for you? Well, for starters, we gave OwnerRez a facelift. This started earlier with the search section, but now is applied to all the menu overview pages.
The new top bar lets you easily navigate from place to place, see how many unread inquiries you have at a glance, and search from anywhere. As part of this, we're working toward a responsive layout that will adapt to any screen size so you can use OwnerRez on your computer, tablet or phone and get the best experience on any device.
The menu bar, itself, already does this. As the browser shrinks to smaller devices, the menus disappear to make way for a single button that slides opens with a single click (or touch) as does the search and account buttons. This responsive layout will continue to permeate the application until every page is easy to use on every device.
We've also upgraded the grids, adding a filter bar under the column headers and adding Excel export functionality. Anywhere you see a grid (Bookings, Quotes, Inquiries, etc.), you can now click the Export button to download an .xlsx file containing the full contents of the grid. We'll be adding CSV export in the next couple of weeks for those of you that don't use Excel.
We've improved the grid filtering, particularly for properties. You can now select multiple properties to filter any grid.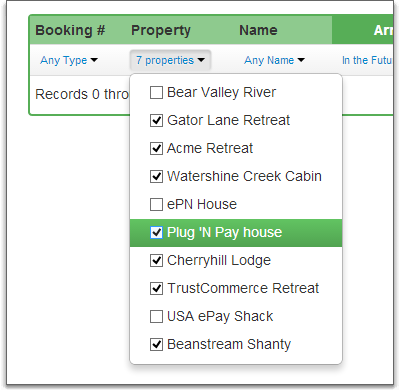 You can also filter by name on any grid that has name columns. In the future, the filter bar will continue to be upgraded to include filters in every column and a variety of extra options.
Throughout the application, we've tweaked options, fixed bugs and added enhancements.
Want to collect the second payment in person when the guest arrives? You can now do that. Go into the property or quote and set the Second Payment Rule to not automatically collect.
Want a quote to remind you about the security deposit release at a different number of days than usual for that property? You can do that.
Now that this update is out, we'll be doing more rapid updates over the next few weeks to add things like CSV export, custom listing sites for inquiries, resolution fields for inquiries, manual inquiry entry, new email templates, email templates per property, custom email template fields, custom email events, auto responders, rules, moving bookings between properties, a ribbon view reporting and a lot more.